Crypto Surges, Market Cap Passes $300B
Just weeks ago, certain analysts were calling that Bitcoin (BTC) was topping. These crypto investors used terms like "strong correction" and "bearish retracement" to describe what they expected to come to fruition.
While they were partially right, in that BTC fell to $7,450 from $9,100 in a week's time, what followed was shocking, catching traders with their pants down. Since hitting $7,450 just a week or two back, Bitcoin has exploded higher, with bulls clearly showing they are in control.
In fact, as of the time of writing this, the leading cryptocurrency has hit $9,900 — implying a seven-day performance of 20%. Altcoins have followed suit, pushing the aggregate market capitalization of cryptocurrency past $300 billion for the first time in a year. This rally may just be beginning though.
Fractal Suggests Bitcoin to Soon Break Past $10,000
We at Ethereum World News have been tracking one fractal, spotted by Crypto Kaleo, for weeks now. (For those unaware, a fractal in financial markets is a historical bout of price/technical action playing out on a different date, different time frames, and at different prices.)
Per previous reports from this outlet, the fractal, which is a snapshot of the price action seen in early-May, was so accurate that it predicted the move from $8,000 to $8,900, which was a move that caught many regular traders off guard. What's even more convincing is that just as Kaleo expected, a correction from $8,900 to $8,000 was seen.
In his latest update, Kaleo posted the image below, which shows how this fractal has stood the test of time. It suggests that BTC will fall to $9,600 as buying momentum temporarily peters out, then skyrocket past $10,200 in the coming 24 hours.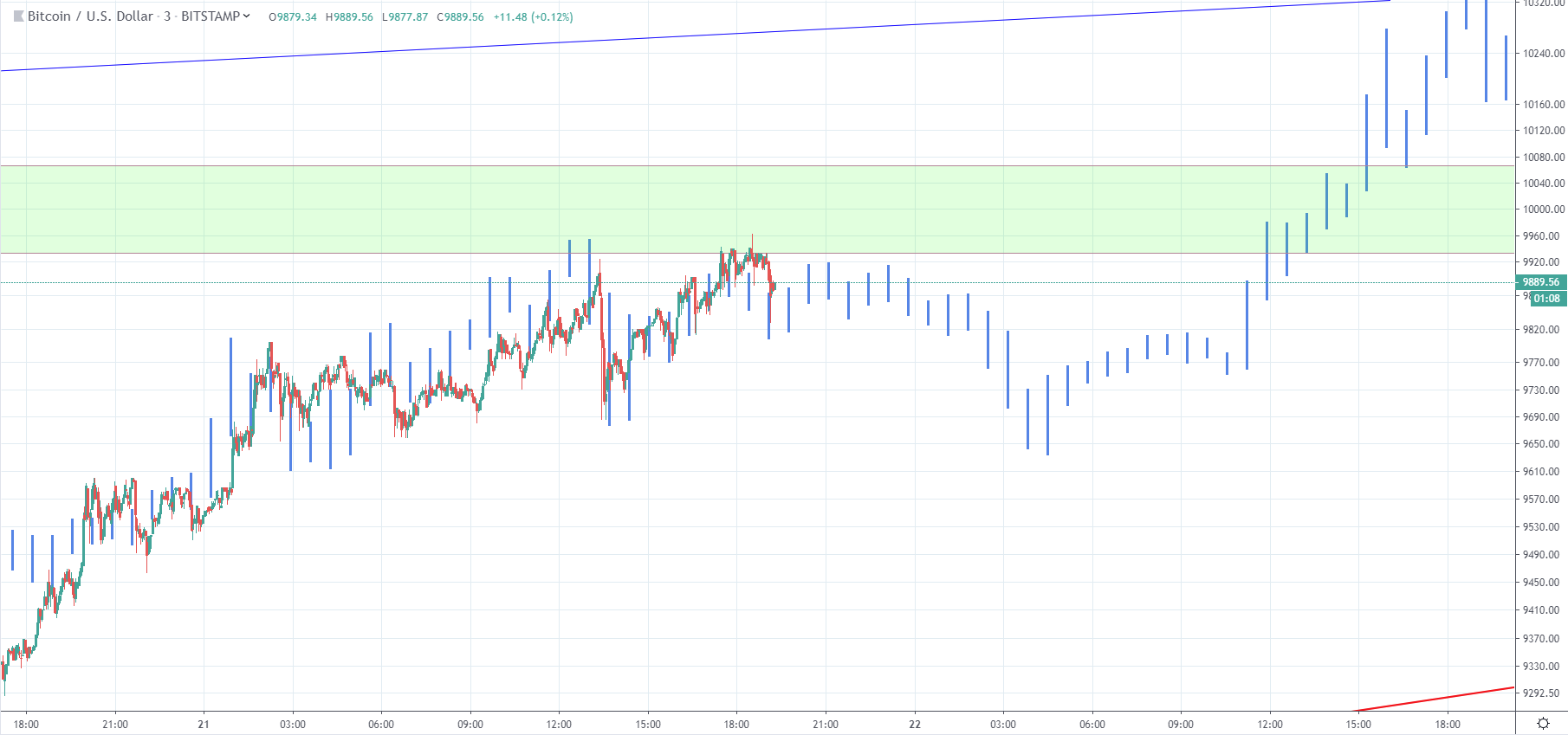 It is important to note that if Kaleo's entire fractal plays out, meaning that all of early-May's movements will have to be seen again, yet on a bigger time horizon, we should be taken "straight to $20,000", as concisely put by the analyst.
Indeed, the entire fractal, which has held in a clear parabolic pattern, shows that Bitcoin could hit $20,000 by July, and then be susceptible to a relatively large 20%+ drawdown. This may sound absurd, especially considering that BTC breaching $20,000 in the coming sixty days would shock investors en-masse, but the fractal has been almost entirely accurate so far.
Photo by Tyler Reynolds on Unsplash