Bitcoin May Remain Trapped Under $6,000 For Now
Analysts, like Crypto Rand, fully expect for Bitcoin (BTC) to soon break past the $6,000 resistance level. However, one analyst going by "Wusten" recently argued that if cryptocurrencies follow their historical long-term trends, BTC may remain trapped under $6,000 until late-2019 or even 2020.
In a recent Twitter post, Wusten noted that Bitcoin follows long-term (three or four year) cycles that see BTC rally parabolically higher each time. According to his analysis, Bitcoin has recently exited the capitulation phase, which saw the BTC chart print a "death cross" last April to fall to $3,150 by December, and has now entered the accumulation/consolidation phase.
If historical trends are followed, the recent golden cross, which saw the 50-day moving average cross above the 200-day moving average, will be a "fake out." Wusten explains that Bitcoin will remain trapped under $6,400, which BTC traded around for many months last year, until October. By October, the analyst expects for cryptocurrencies enter "spring" and for BTC to see an actual breakout, marked by a bonafide golden cross. Wusten isn't the first to claim that months of accumulation are in Bitcoin's future.
In a tweet posted after Bitcoin's surge past $5,000 on April 1st/2nd, Josh Rager, a popular trader, explained that in BTC's previous cycle, it took "216 days for accumulation from the bottom to spring." As of the time of his tweet, Bitcoin had only experienced 113 days of accumulation. And as such, Rager noted that for historical trends to be satisfied, BTC could remain trapped within a tight range until July 19th, 2019.
Even a prominent Bitcoin fund, Adamant Capital, chimed in on the matter. As reported by Ethereum World News, the fund, headed by Tuur Demeester and Michiel Lescrauwaet, wrote that considering a number of indicators, long-term trends, and underlying development, Bitcoin has likely entered its "accumulation phase." They didn't divulge when cryptocurrencies would exit this part of their life, but they noted that a final bottom has likely been established.
Where's BTC Heading In The Short Run?
If Bitcoin is following historical precedent, what will BTC do next? According to two prominent analysts, Brian "The Rational Investor" Beamish and the ill-titled Magic Poop Cannon, a move to re-test yearly lows could be possible.
As depicted below (chart courtesy of Beamish), Bitcoin's price action in 2017 was evidently a "blow off top" and 2018's was "the hangover," two macro trends seen in the previous bubble. If Bitcoin continues to follow its trend, 2019 will see BTC rally tremendously, but not without another influx of capitulation first. Beamish suggests that a move to near December 2018's levels will come in the coming months, potentially as soon as June.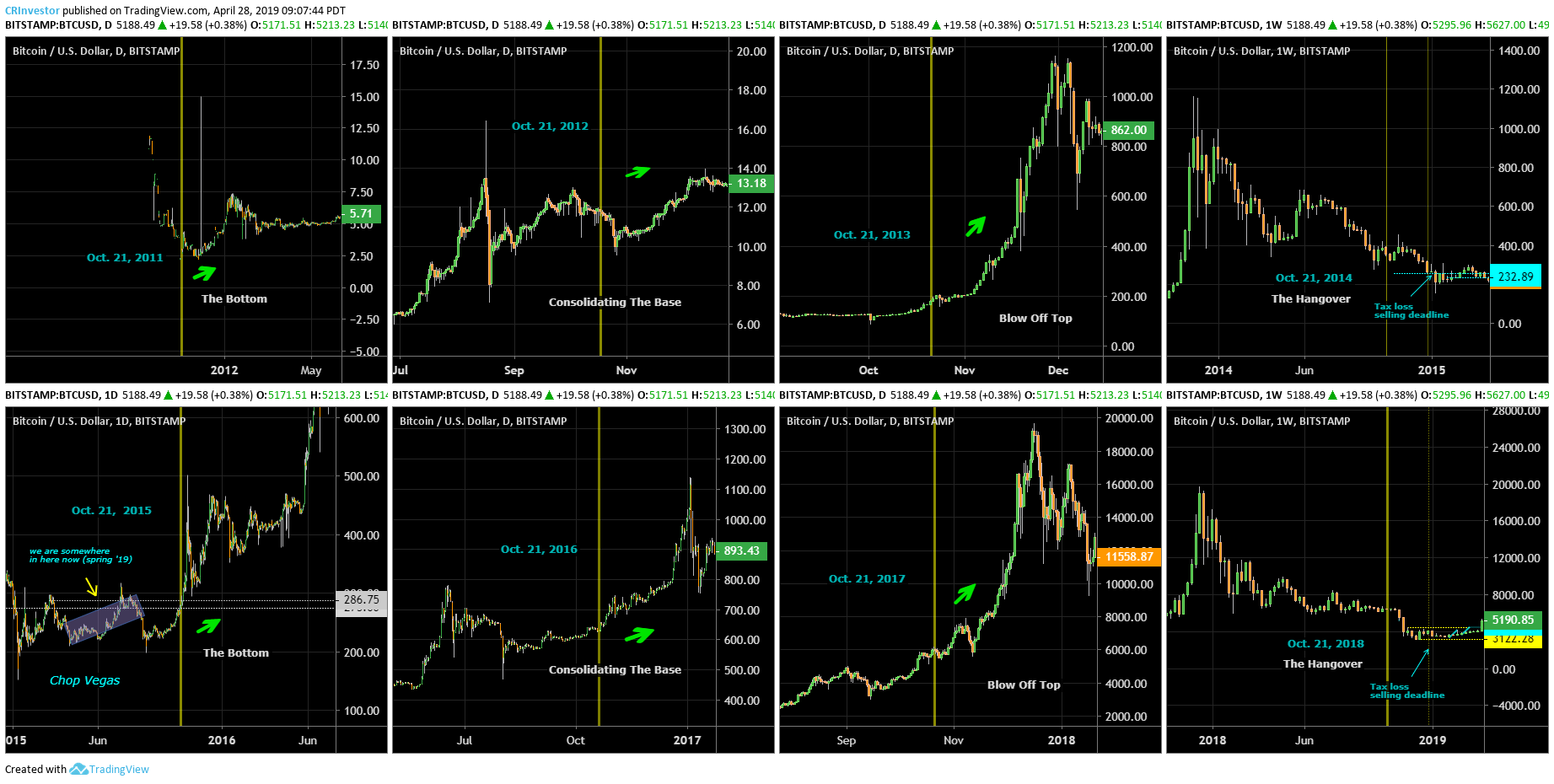 And as Magic Poop Cannon remarked, Bitcoin's current price action, the 50-week exponential moving average, 50- and 200-day moving averages, Fibonacci retracement levels, and Relative Strength Index (RSI) readings are all looking eerily similar in structure to that seen in mid-July 2015. And thus he wrote that if BTC tracks its historical trend, the golden cross will form (check), a trading range of $5,000 to $5,300 will hold until May 7th (check), and will collapse to $4,025 by the end of May.
Title Image Courtesy of Icons8 Team Via Unsplash