Bitcoin Could Hit $10,000 Soon
Bitcoin (BTC) has the potential to run in June, according to analyst Naeem Aslam anyway. In a recent tweet, the chief analyst for Think Markets U.K., revealed that June is likely going to be a good month for BTC due to pure historical numbers — not as good as May, but good nonetheless.
Citing data he gathered, Aslam stated that the five-year trailing high percentage number for Bitcoin's performance in June is 25.98%, which, according to him, directly implies that BTC has the potential to run to $10,712 from current levels by months' end.
He does, however, note that bullish momentum has slowed across the board. The Relative Strength Index (RSI), an indicator that measures if an asset is overbought or oversold, has fallen below the level of 70. Aslam notes that for BTC to continue to rip higher like it has been over the past two and a half months, the RSI will need to cross back into an overbought territory to show that bulls truly have their hand on the wheel. He adds that even if Bitcoin continues to fall lower, such a drop will be met with a large influx buying pressure on behalf of bulls, especially those looking to accumulate for the long run.
This comes a week after popular analyst Filb Filb postulated that Bitcoin has the potential to reach $10,000. It isn't clear if this is still on the table, but at the time, Filb explained that in 2018, 7,300 BTC worth of shorts opened on Bitfinex in the $11,600 to $13,800 level. Assuming that some of these positions have yet to close, Filb explains that as the cryptocurrency market continues to push higher, shorts will become increasingly under pressure to cover, thereby buying BTC spot and pushing up prices as a result.
What's more, he expects for the "Fear of Missing Out" (FOMO) and the 0.618 Fibonacci Retracement level to act as a magnet, potentially giving Bitcoin the legs to run to the $12,000 range. With this, he concludes that "Bitcoin has enough in the tank to break $10,000".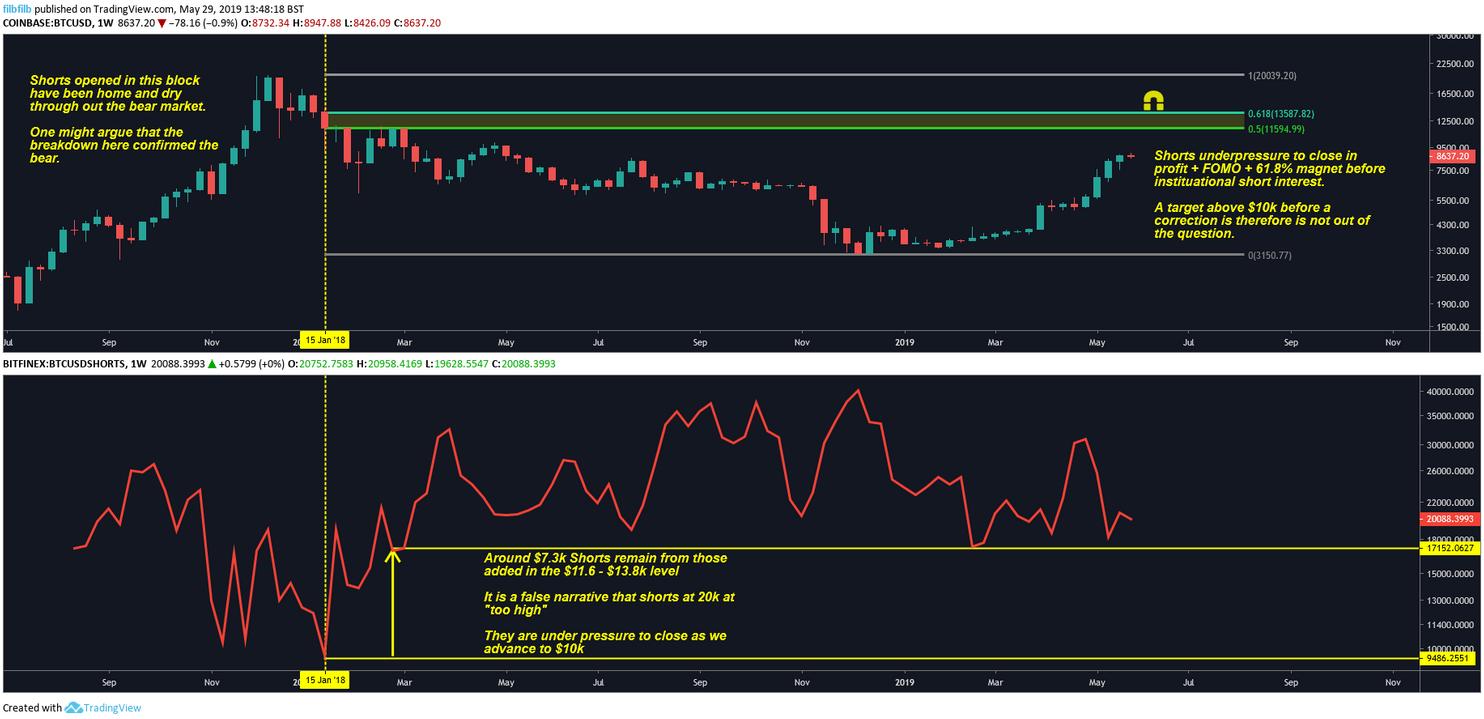 Facebook to be a Massive BTC Catalyst
Back to Aslam. In the aforementioned post, the analyst drew attention to one fundamental reason why BTC could skyrocket higher in the weeks to come. To put it short and sweet, it's the launch of Facebook Coin, also known as "GlobalCoin".
For those unaware, Facebook is believed to be launching its own digital asset in the coming weeks, or at least the white paper for it anyway. While it is unclear whether or not if the asset will be able to operate with something like Bitcoin or Ethereum, many believe that it will increase public awareness of digital assets, and draw millions to BTC and related technologies. This should, in theory, boost adoption, and thus price.
Title Image Courtesy of Marco Verch Via Flickr