Bitcoin Accumulation Season
Filb Filb, once again, has unveiled a reason why crypto investors shouldn't be all too gloomy. The analyst recently wrote that the number of UTXOs (Unspent Transaction Outputs) on the Bitcoin blockchain is nearing the all-time high it established at the peak of 2017's BTC run, indicating that "accumulation is real."
The prominent trader claims that this uptick in UTXOs, which signals that a growing number of Bitcoin receivers are "HODLing" their coins, was a result of December's capitulation event, which brought BTC from $6,000 to $3,000.
While growth in UTXOs doesn't explicitly indicate a bottom, a research piece from the New York-based Delphi Digital once explained that accumulation in this statistic should present a positive sign for Bitcoin. The Anthony Pompliano-backed research boutique wrote in January that the crypto market is likely to bottom in Q1 of 2019, citing an array of historical trends in the movements of the UTXO value, as it signals renewed optimism in BTC.
Institutions, Retail Investors Stacking Sats
Although UTXOs can be artificially inflated, other data points suggest that investors across the board actually are accumulating cryptocurrencies for the long haul.
Citing data from Blockchair, Blockchain.com, among other data providers, crypto publication Diar noted that "Bitcoin addresses show that retail investor attitudes remain strong." The publication remarked that the number of addresses holding one to ten BTC, valued between $4,000 and $40,000 at current rates, is up by 5% since Bitcoin's $20,000 peak in late-2017. Save for a hiccup in late-2018, as some of these addresses, presumably owned largely in part by mom & pop investors, liquidated their holdings in November's plunge, this statistic is up consistently month-over-month.
On the institutional side, Grayscale Investments was recently revealed to have approximately 1% of all Bitcoin in circulation under its care — an evidently staggering sum. Weeks later, the American company, an arm of the New York-based Digital Currency Group, took to its 2018 debrief to explain that it had raised $237 million from institutional investors alone in 2018, accentuating that bigwigs are still throwing money into this space.
Not Accumulation Season Yet?
While there seems to be a whole lot of hubbub in regards to accumulation, one analyst argues that it isn't exactly time to scoop up BTC just yet. As reported by Ethereum World News, Murad Mahmudov, a partner at Adaptive Capital, recently argued that the cryptocurrency has yet to enter its "accumulation" region," as it still is susceptible to lower lows.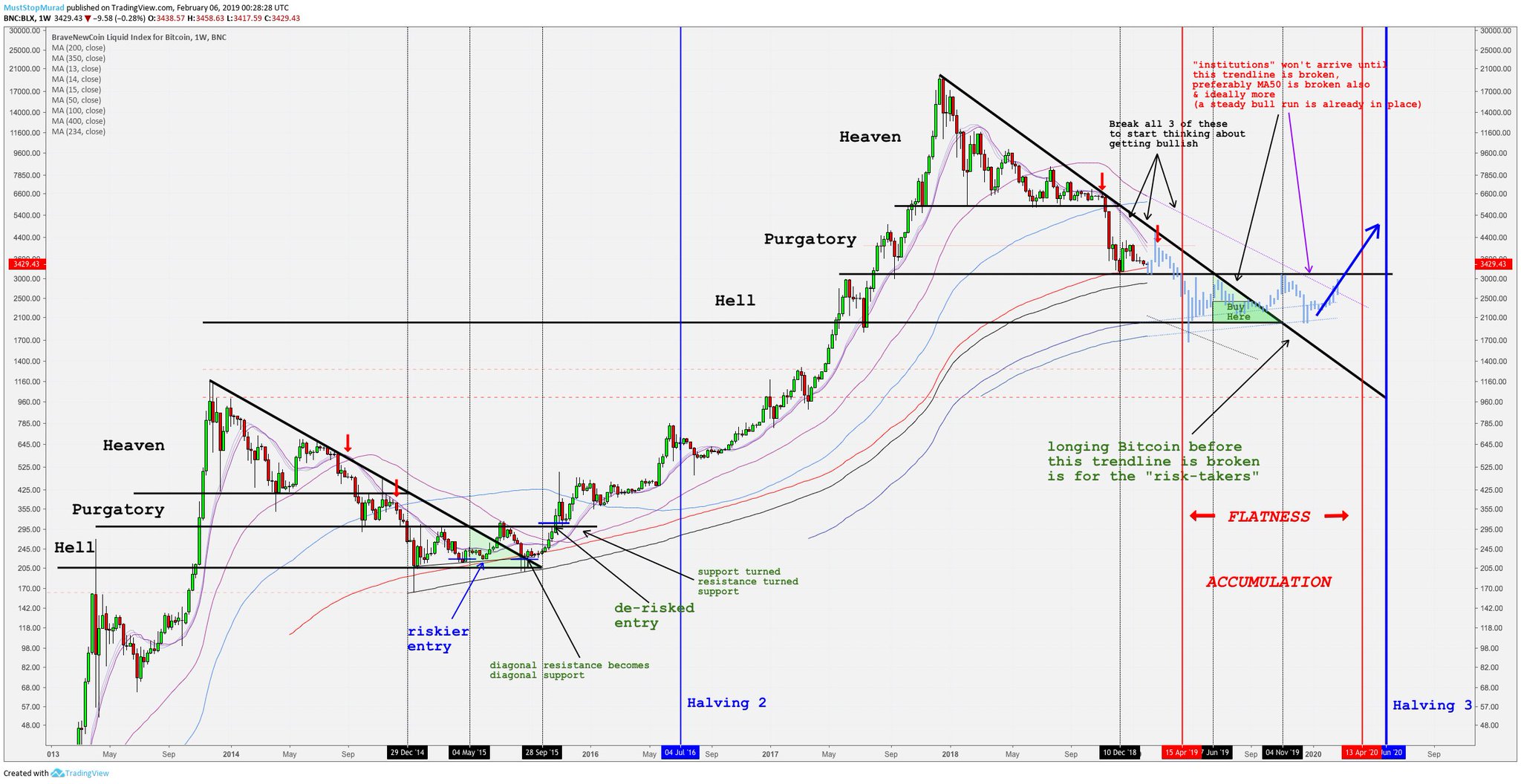 He expects for Bitcoin to enter a region of "hell," in which the asset will range trade between $1,700 and $3,000 as 2020's halving event nears.
The reason why he expects for a sub-$3,000 is due to a combination of historical and fundamentals factors.
In a tweetstorm, Mahmudov explained that the waning number of Bitcoin-related comments on Twitter, as per BitInfo, should indicate that there remain very few people that care about decentralized, sovereign, uninflatable currency, thus limiting Bitcoin's upside. The prominent analyst, who formerly worked on Wall Street, added that he expects for a "Final Capitulation" to play out, which will see BTC drop by potentially another 50% in a dramatic wick event.
Photo by Kent Pilcher on Unsplash