Analysts Bullish on ETH
Over the past week, the crypto market has surged yet again. Ethereum (ETH) has hit $270, nearing a year-to-date high, and Bitcoin (BTC) is past $9,000 for the umpteenth time in weeks. With this strong move higher, analysts have tried to postulate what comes next for the market. Today, Ethereum World News will take a closer look at what people are saying about ETH.
In a tweet published early into the latest leg higher, Financial Survivalism, a prominent analyst, explained why he's bullish on Ethereum. He looked to the fact that ETH has broke through key resistances on high volumes, has seen a golden cross, has shown early signs of a parabolic move, and is in a bull flag during a consolidation phase. As to where ETH is heading exactly, Survivalism didn't divulge that information. Yet, he did confirm that he was buying Ethereum on the spot Gemini market as a result of his analysis.
(Survivalism's latest analysis comes after he accurately predicted Bitcoin's recent rally back to the high-$8,000s. Per previous reports from Ethereum World News, he claimed that if the textbook Wyckoff pattern plays out, BTC breaking past $8,040 would confirm a move to near $9,000.)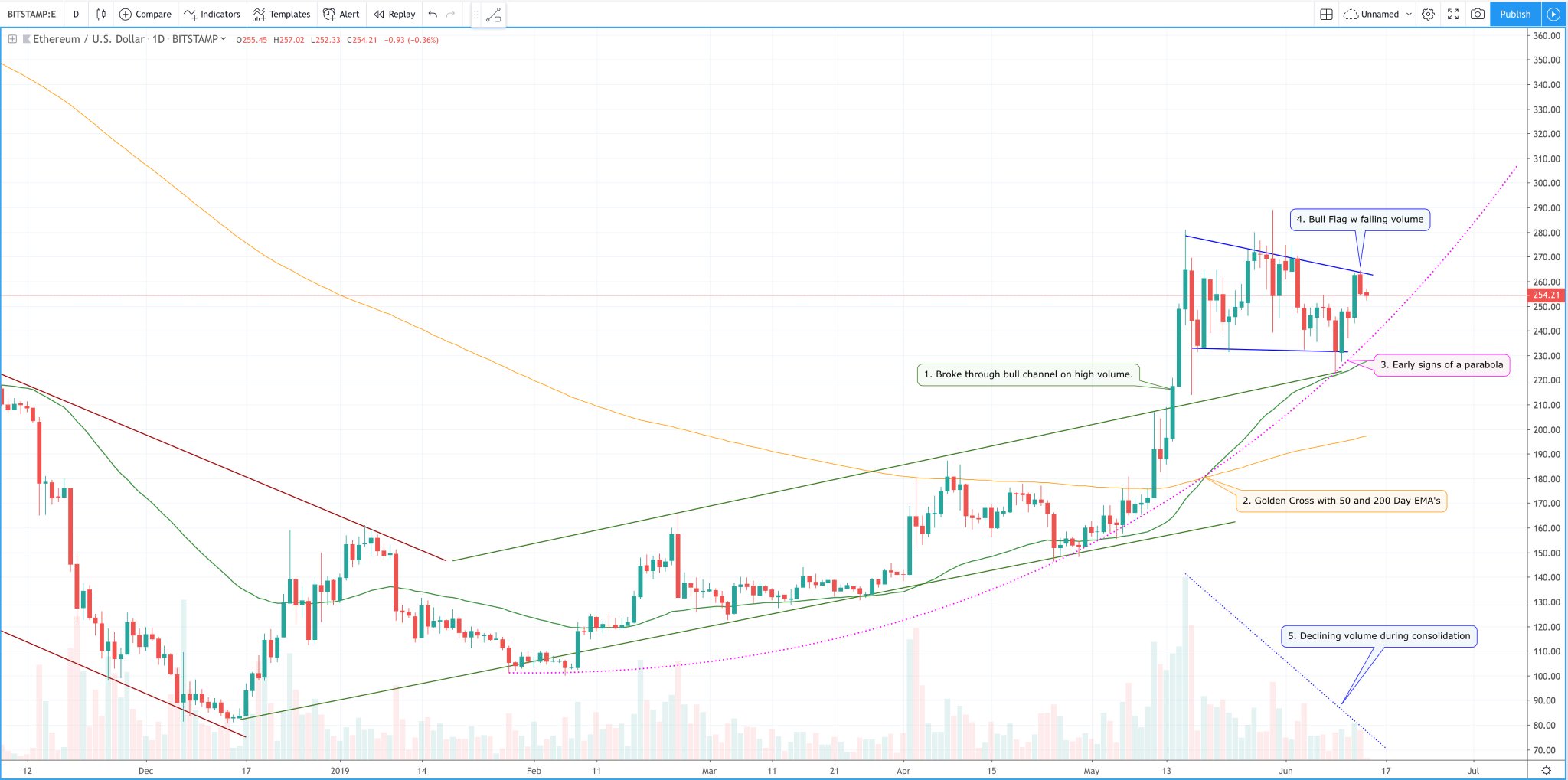 Analyst Smart Contracter, also known as Benjamin Blunts, claims that if ETH breaches $302, "look the f**k out". As seen below, which Benjamin posted, the current Ethereum chart looks a lot like it did in early-2017, which is when the cryptocurrency skyrocketed from sub-$100 to the hundreds. As seen below, ETH is currently trading in a pennant, has seen declining volume, and has tapped the channel five times, just as it did in early-2017. If history is of any indication, Ethereum could near $1,000 yet again as 2019 comes to a close.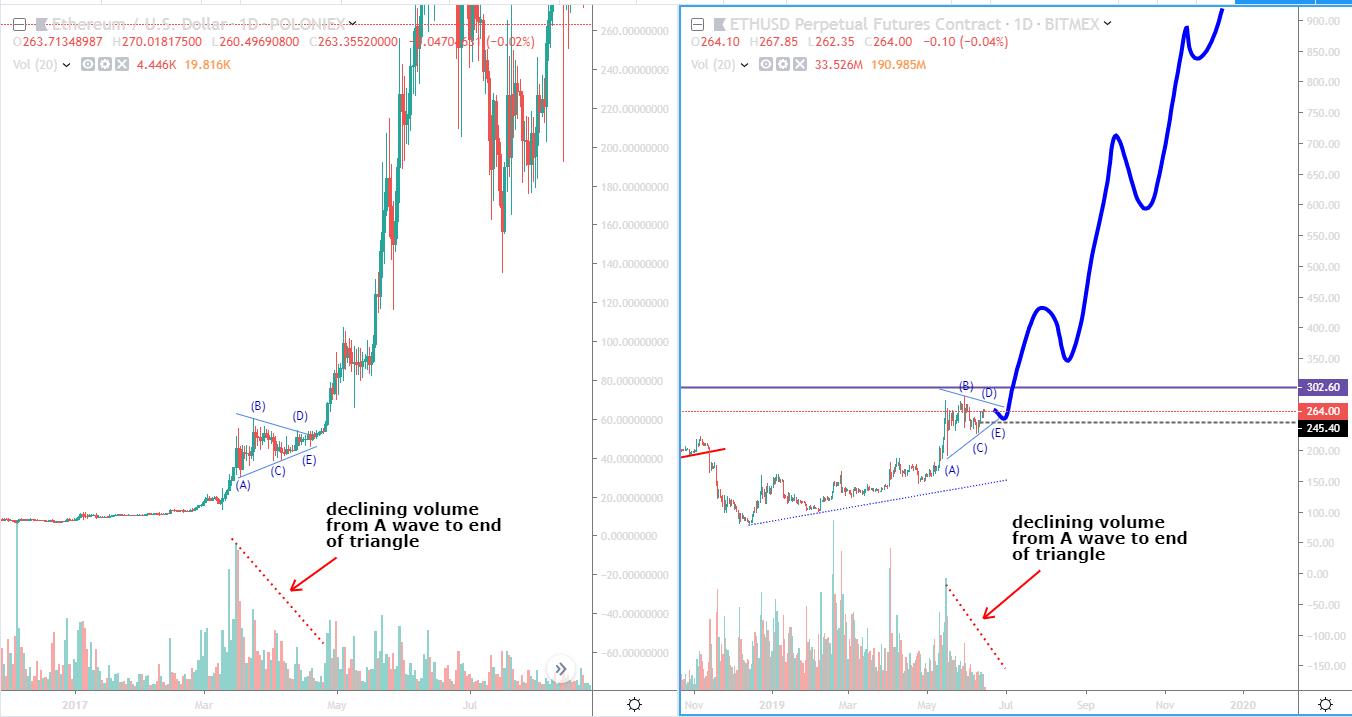 Ethereum 2.0 On the Horizon
This comes as Ethereum 2.0 is right on the horizon. In the 19th ETH 2.0 Implementers Call that took place last week, Ethereum researcher Justin Drake claimed that the system upgrade may take place on January 3rd, 2020, just over six months away.
For those unaware, founder of the blockchain Vitailik Buterin claims that Serenity could simply be explained as "a way to bring technical improvements, like PoS and sharding, together to improve the Virtual Machine, Merkle Trees, the efficiency of the protocol, and a whole bunch of small technical things that you have never heard of." Per the industry insider, this is all being done in a bid to create a "next-generation blockchain" to be hundreds of times faster and scalable than Ethereum's current iteration.
Some are skeptical of this date though. Per CoinTelegraph, during a panel headlined "The Smart Contract War Is Coming", Ryan Selkis of data analytics startup Messari drew attention to the shortcomings of PoS. He claimed that the consensus mechanism, which gets rid of energy-chomping miners for entitled full nodes that can process Ethereum blocks, is "not proven to work." Selkis, who is the CEO of the aforementioned firm, adds that Ethereum's current Proof of Work (PoW) system may be "even good enough" for long-term scaling.
And thus, he added he doesn't expect for "Proof-of-Stake and ethereum 2.0 to happen before the end of 2021 at the earliest."
Title Image Courtesy of Pixabay