Bitcoin Could Run To $10,000
Bitcoin (BTC) may be taking a breather, but many analysts are coming to the conclusion that the ongoing rally is not done just yet.
In a recent TradingView analysis, Filb Filb, a popular analyst, noted that Bitcoin still has fuel to run. He notes that in 2018, 7,300 BTC worth of shorts opened on Bitfinex in the $11,600 to $13,800 level. Assuming that some of these positions have yet to close, Filb explains that as the cryptocurrency market continues to push higher, shorts will become increasingly under pressure to cover, thereby buying BTC spot and pushing up prices as a result.
What's more, he expects for the "Fear of Missing Out" (FOMO) and the 0.618 Fibonacci Retracement level to act as a magnet, potentially giving Bitcoin the legs to run to the $12,000 range. With this, he concludes that "Bitcoin has enough in the tank to break $10,000".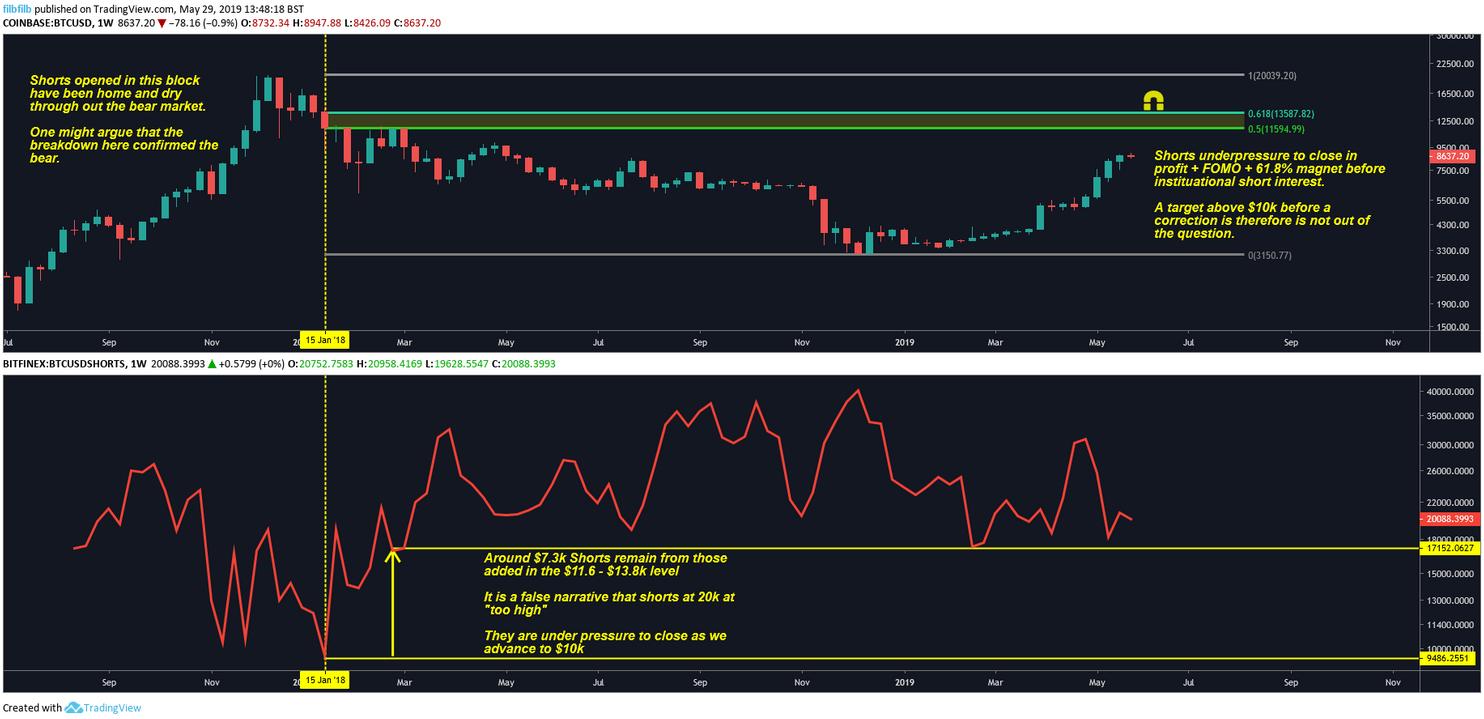 He isn't the first to have made such a suggestion. In a comment obtained by MarketWatch, Think Markets' chief financial analyst Naeem Aslam revealed that he believes Bitcoin is still in a decidedly bullish state. He suggests that BTC is about to "blast past the level of $10,000". The analyst explains that BTC being far above its 50-, 100-, and 200-day moving averages suggest that bulls currently have their hand over the cryptocurrency wheel, opining that these technical levels "define the trend." To back his call with fundamentals, Aslam looks to the fact that institutional investors are diving into the cryptocurrency space at a rapid pace.
Bulls Nearing Exhaustion
Despite the fact that there may be enough short interest to push BTC to the auspicious $10,000 mark, there are signs that bulls are nearing exhaustion. According to CoinDesk's technical analysis team, the cryptocurrency's chart structure isn't all too reassuring.
Firstly, Bitcoin's daily chart is in a rising wedge pattern, which often results in bearish reversals of a bullish trend. Secondly, there has been a decrease in buying volume across the board as BTC has moved higher, suggesting hesitance from bulls. Thirdly, we've seen a bearish divergence in the daily relative strength index, while Bitcoin has reached overextended territory. And to put a cherry on the top of this Bitcoin cake, many altcoins against the leading cryptocurrency seem poised to rally, not boding well for BTC.
As CoinDesk adds, Bitcoin's Mayer Multiple, which is its price over its 200-day moving average, has reached 1.92 from a low of sub-one in a matter of a few months. While this is not necessarily "bubble territory", which CoinDesk defines as any Mayer Multiple reading above 2.4, the fact that the Mayer Multiple has grown so quickly accentuates that this market may be overbought in the short-term. We'll have to see what happens though.
The Mayer Multiple (BTC price/200 day MA) shows just how sharp and quick the recent $BTC recovery was. Interestingly, it looks very similar to the end of the 2011 bear market.

A multiple above 2.4 is considered bubble territory (very overextended) – the current multiple is 1.92 pic.twitter.com/bDxC1SUlh8

— CoinDesk Markets (@CoinDeskMarkets) May 29, 2019
Photo by Андрей Воинов on Unsplash