As covered by Ethereum World News on Tuesday, Bitcoin saw an astonishing price surge, quickly reaching an $8,400 high, which is also the highest the foremost cryptocurrency has been in two months. Many attributed this quick run-up to a series of positive technical and fundamental indicators that show that things are beginning to look up for this heavily-battered industry.
What accompanied this price surge was a huge wave of volume from retail and institutional investors sitting on the sidelines. As Bitcoin rose, users regained faith in this market, causing a pseudo snowball effect, with Bitcoin quickly surpassing heavily contested resistance levels with gargantuan amounts of money flowing through these markets.
According to a recent tweet from the BitMEX exchange, which has grown popular for offering leverage trading (up to 100x), during the aforementioned surge, BitMEX set an industry record for Bitcoin trading volume.
A new BitMEX (and industry) record: 1,000,000 XBT (> $8BN) traded in the last 24 hours!

— BitMEX (@BitMEX) July 25, 2018
The record was that BitMEX traded over 1.04 million Bitcoin in a 24 hour time period, or the dollar equivalent of ~$8.5 billion at prices at the time of press. Issuing a site-wide announcement, the exchange shared their excitement, writing:
BitMEX traders set a new record today, trading over 1,000,000 XBT in just 24 hours. At 0:42 UTC today, the public stats endpoint showed a total of 1,001,000 XBT, peaking at 1,041,748 XBT three hours later. In USD terms, this was just over $8B. This is an industry record both in Bitcoin and USD terms. Thank you to all our staff and traders for helping us set this historic milestone!
Below is a view of the trading volume seen on BitMEX over the past week, with there clearly being an uptick on July 24th, the day the firm announced that they had surpassed 1 million Bitcoin traded.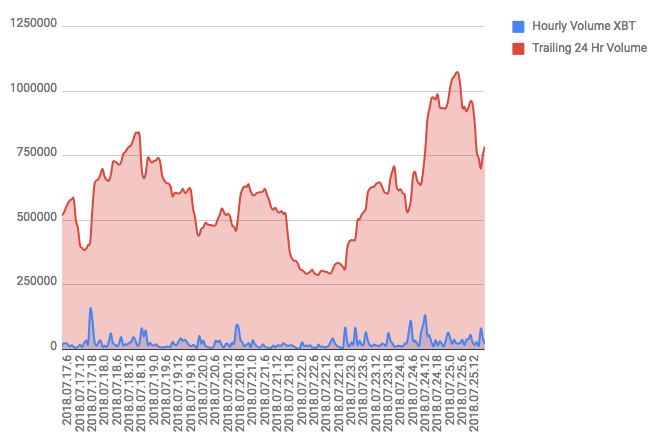 Although special on their own, these figures also show that Bitcoin could be set for a further move upwards, as volume has historically been held as an indicator of investor interest in a specific asset or asset class.
Issuing a press release on the matter, Arthur Hayes, the well-known co-founder and CEO of BitMEX, wrote:
The astronomical surge in trading volume, coupled with the steadily rising price of bitcoin, is reflective of the market's increasingly sophisticated understanding of the potential of bitcoin to redefine global markets… The record that BitMEX has set marks a major milestone in the cryptocurrency industry's overall path to maturation.
BitMEX CEO Expects $5k Before The Eventual Move Upwards
On July 20th, before Bitcoin's move above $8,000, Arthur Hayes appeared on CNBC Fast Money to give his opinion on the current state of the market. He noted that he expects that this reversal will end within the near future, stating that Bitcoin hasn't "seen the worst" yet.
Was the move in #bitcoin all just a short squeeze? @CryptoHayes discusses. pic.twitter.com/ViIjVeWIxG

— CNBC's Fast Money (@CNBCFastMoney) July 19, 2018
Hayes later elaborated, stating:
"I don't actually think we've seen the worst. I think this is a very strong rally on good volume and we definitely could see $8,000, $9,000 and maybe just shy of $10,000. We've been here before earlier in the spring, we rallied from about $5,800 to a high in the $9,000 level, but we didn't quite crack $10,000. I think similar action will happen this time, and I would like to see us test $5,000 to really see if we put a bottom in."
Although this may sound bearish, in a later statement given to CNBC, the CEO noted that if Bitcoin tests and holds the $5,000 level, that "we can rally to $50,000 by year's end."