Analysts Bullish on Ethereum
Since hitting $275, Ethereum (ETH) bulls have quieted down along with the rest of the cryptocurrency market. As it stands, both Bitcoin and ETH are stagnant, trading within very small price ranges as the day-to-day volatility of this nascent market induces movements.
Some are sure that despite the lull, Ethereum may soon be poised to break out, to the upside that is. In a recent double Twitter thread, well-known analyst Joe McCann claimed that the ETH chart recently saw two technical occurrences that should bode well for bulls.
Firstly, as seen below, the analyst remarked that the Moving Average Convergence Divergence (MACD) on Ethereum's one-day chart recently saw a bullish crossover, which saw the blue signal line cross above the red/orange. This marks the end of a 17-day bear period for Ethereum as defined by the MACD. The last time that a bullish MACD cross was seen on ETH's daily chart, the asset gained 64%. This could imply that another run is on the horizon, which seems likely considering the news about Ethereum 2.0.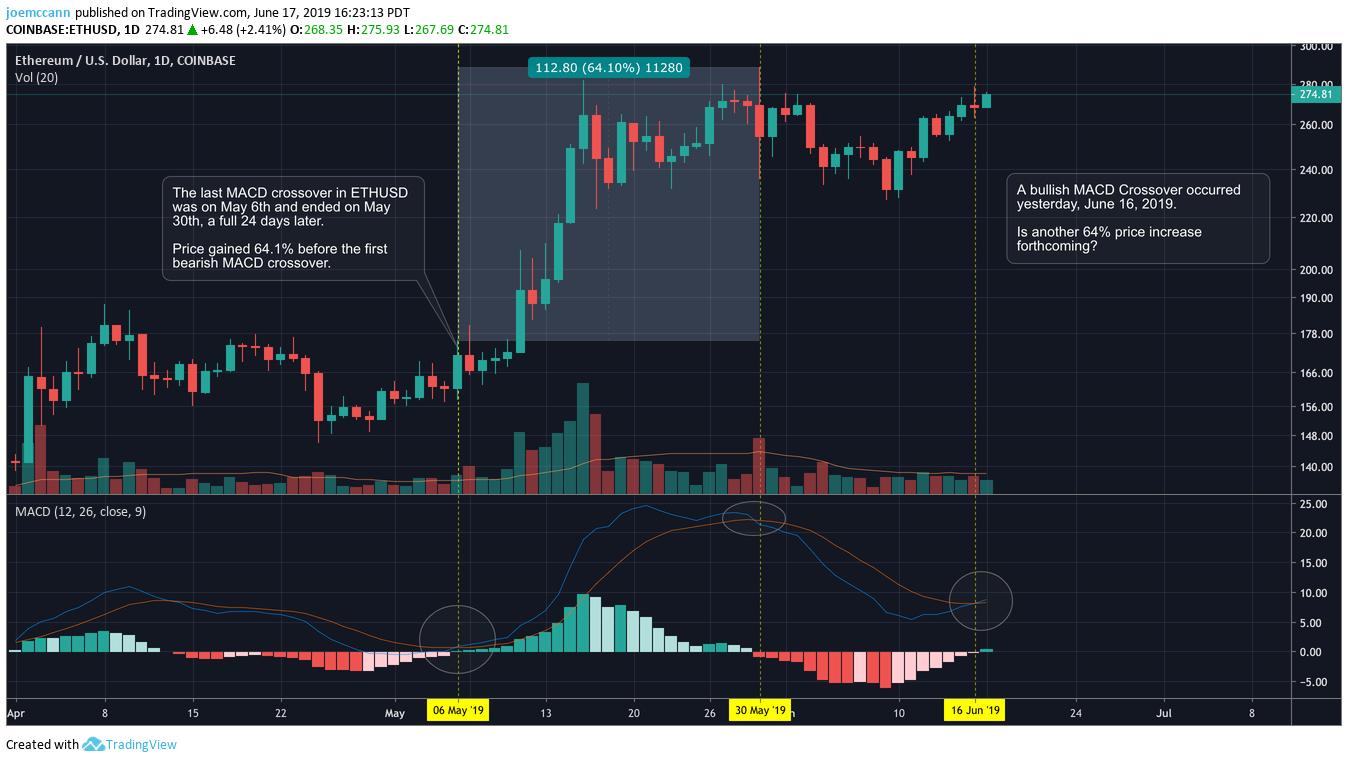 Secondly, Ethereum's one-day chart has seen its ten-day moving average cross above the 20-day moving average, meaning that bulls are in control of the cryptocurrency. The last time this pattern came to fruition, ETH rallied by 69.27%. It's interesting that both of these signals preceded ~60% moves to the upside. Such a rally at current prices would put the asset at $430 — still over 60% shy of its $1,000+ all-time high.
McCann isn't the only analyst bullish on the leading cryptocurrency. Through a tweet, Level's Josh Rager explained that as it stands, Bitcoin is 53% down from its $20,000 high. Ethereum, on the other hand, is still down almost 83% from its high, and has the potential to head lower due to a harrowing ETH/BTC chart. But, Rager notes that if ETH was to catch up to where Bitcoin is in its cycle, it could easily hit $750 — representing an over two-fold increase from current levels. In a later tweet, he added that "ETH has a better ROI than Bitcoin at current prices for this cycle."
Fundamentals would support his optimism. As reported by Ethereum World News previously, the Serenity blockchain upgrade is right on the horizon.
In the 19th ETH 2.0 Implementers Call that took place last week, Ethereum researcher Justin Drake claimed that the system upgrade may take place on January 3rd, 2020, just over six months away.
For those unaware, founder of the blockchain Vitailik Buterin claims that Serenity could simply be explained as "a way to bring technical improvements, like PoS and sharding, together to improve the Virtual Machine, Merkle Trees, the efficiency of the protocol, and a whole bunch of small technical things that you have never heard of." Per the industry insider, this is all being done in a bid to create a "next-generation blockchain" to be hundreds of times faster and scalable than Ethereum's current iteration.
Photo by Joshua Ness on Unsplash