The past few days haven't been kind to the crypto markets. After peaking last week, market leaders Bitcoin, Ethereum, and Ripple's XRP and smaller altcoins saw their values tank.
XRP, unfortunately, was hit especially hard, perhaps because it has seen an especially strong rally over the past eight weeks. The asset was hit so hard that after it topped just above $0.34, a price it hadn't traded at in years, it plummeted to $0.625 during the flash crash on Wednesday, brutalizing bulls.
Despite this brutal more-than 25% retracement in the price of the third-largest cryptocurrency, analysts remain optimistic. In fact, a prominent analyst has suggested that as long as the cryptocurrency can hold $0.245 to $0.25, a 100% rally could take place in the coming months.
XRP Preparing to Roar Higher If Price Holds ~$0.24, Analysts Say
Michael Van De Poppe, an analyst at CoinTelegraph and a trader at the Amsterdam Stock Exchange, recently shared the below chart, showing that XRP's price outlook remains rather bullish.
Backing this optimism, he pointed to the fact that XRP is in the midst of flipping the ~$0.24-$0.26 resistance into a key level of support, boding well for the bullish narrative. Not to mention, this writer noticed an uptick in volume amidst the uptrend, a positive sign for those not versed in technical analysis.
Van De Poppe suggested that should the asset confirm a support/resistance flip at the aforementioned level, it will be cleared for an 80% rally to $0.46, then potentially another 30% or so rally from there to $0.60.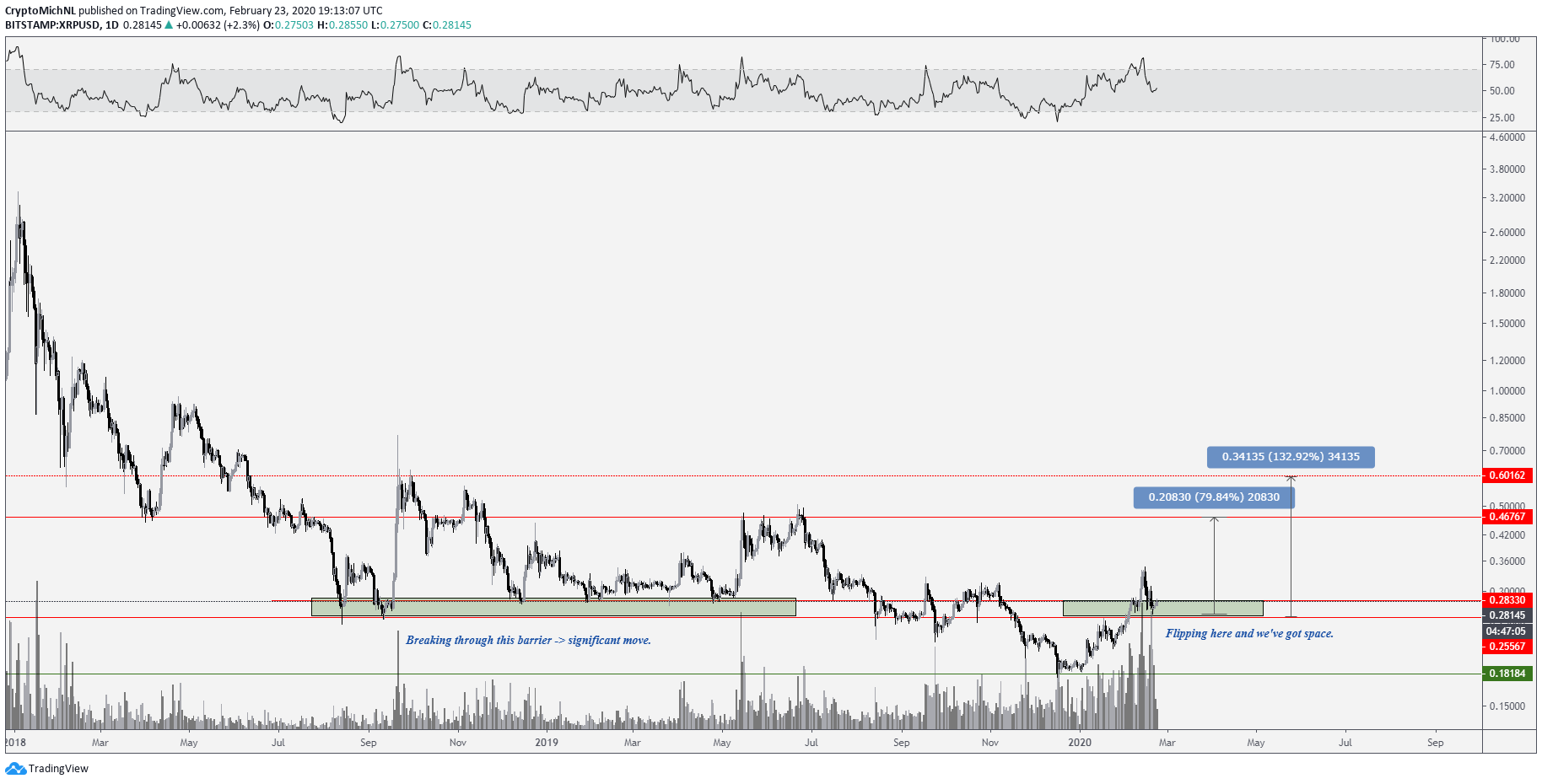 Van De Poppe's assertion that the cryptocurrency holding $0.24 will precede a strong rally has been echoed by CJ.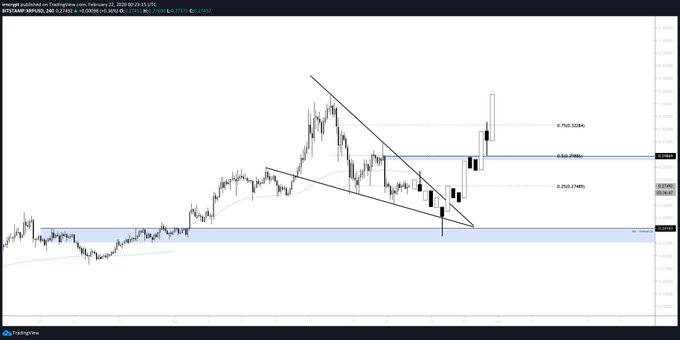 This trader, who was viewing XRP from a shorter-term perspective, noted that the asset has been building a falling wedge pattern over the past two weeks, which more often than not break to the upside. The wedge CJ drew ends at the top of a demand zone (which may act as a region of support) around $0.24, adding to the potential for the wedge to break upward — something that the analyst suggests will take XRP to $0.35.
Are the Technicals Favoring Bulls?
Fortunately for bulls, the technical indicators are favoring the buy-side argument, adding to the bull case depicted by the above analysts.
Custom indicator the IchiEMA has printed a buy candle on the weekly chart of the cryptocurrency. This signal was seen two weeks before the altcoin began its infamous surge at the end of 2017, during which the asset gained over 1,000% in under a month's time, rallying from $0.20 to a price above $3.00.
Photo by Derek Thomson on Unsplash