Fractal Accentuates Bitcoin Won't Pull Back Yet
Price action that is seen in Bitcoin (BTC) markets seems entirely random, controlled by a select group of "whales" and "institutions" that can seemingly flash crash any digital asset with a few clicks. Yet, this is quickly turning out not to be the case. Earlier this week, we reported that one analyst, going by the moniker "Crypto Kaleo", revealed that BTC was currently trading as a fractal (a previous bout of price action/pattern overlayed/fit onto the current chart) suggested almost exactly.
In fact, as seen above, Bitcoin traced early-May's movements to a tee, experiencing similar drops and rebounds at similar points. This fractal is so accurate that is seemingly predicted the recent move from $8,000 to $8,900, which was a move that caught many regular traders off guard. As Kaleo noted after Sunday's 10% spike, the chart's trends are near-identical, even in terms of the hour-to-hour price action.
What's even more convincing is that just as Kaleo expected, BTC collapsed in the days after he posted the chart above, falling to hit $8,000 after the chart showed that a drop to the low-$8,000s was inbound. This is just the start though. Posted just hours ago, the analyst noted that since falling to hit the aforementioned round number, BTC has traced the fractal's price action within some three percent (a small margin), effectively mirroring the blue outline seen below.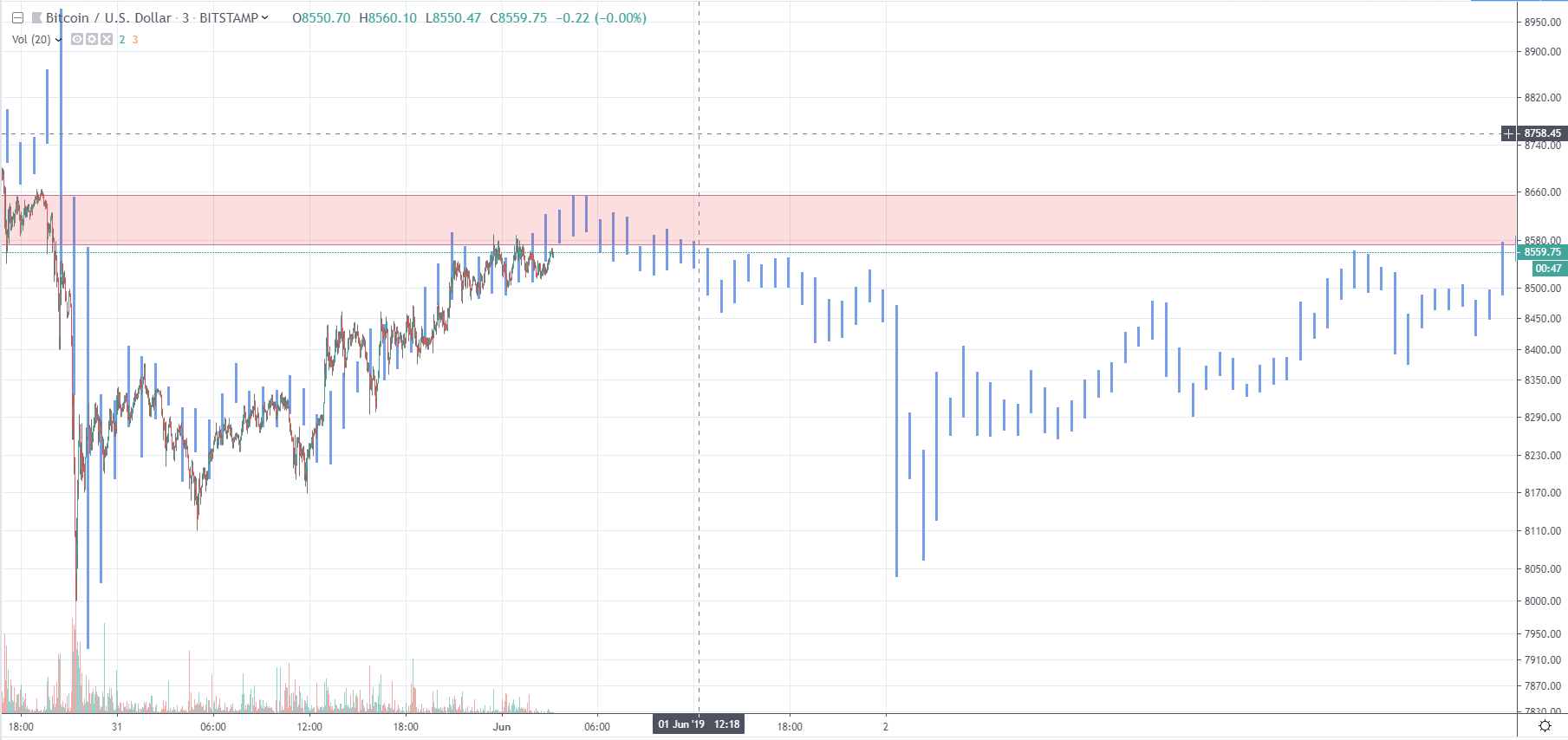 The outline suggests that BTC will top at $8,650 in the coming hours, then collapse to $8,000 yet again, and then range in the low to mid-$8,000s for the coming days. Although a retest of $8,000, in the eyes of some analysts, would be decidedly bearish, the fractal seems to be the most reliable signal to follow right now.
What comes after this, though, is what is the shocking part of this fractal. If the entire fractal plays out, meaning that all of early-May's movements play out yet again, yet this time on a bigger time horizon, we should be taken "straight to $20,000", as concisely put by Kaleo. Indeed, the fractal above, which has held in a clear parabolic pattern, shows that Bitcoin could hit $20,000 by July, and then be susceptible to a relatively large 20%+ drawdown. This may absurd, especially considering that BTC breaching $20,000 in the coming sixty days would negate any traditional models to price the asset, the fractal has been almost entirely accurate so far. Would it be too much to suggest that this trend may continue?
My favorite part about this next move is, it should take us straight to 20K.#Bitcoin / $BTC / $XBT pic.twitter.com/ikAwbOPlnI

— K A L E O (@CryptoKaleo) June 1, 2019
Title Image Courtesy of Jason Wong Via Unsplash