The massive Bitcoin selloff that has characterized most of the market in 2018 might soon be at an end based on the data from a technical indicator. If correct, the top-ranked cryptocurrency may experience a substantial price rally in the last quarter of the year.
Technical Indicator Shows Imminent Bitcoin Trend Reversal
According to Bloomberg, Bitcoin traders might soon experience an end to the selloff of the cryptocurrency. This is based on a technical signal – the GTI VERA Convergence Divergence Indicator. Data from this indicator points towards a trend reversal for Bitcoin that would excite many BTC bulls who have been disconsolate for most of 2018.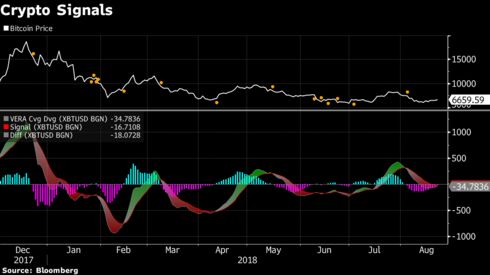 Historically speaking, the GTI VERA Convergence Divergence Indicator has performed well in the past especially with trend reversals. The last time the indicator pointed towards a trend reversal, Bitcoin recovered from a significant dip to increase by almost 40 percent the following month.
The GTI VERA Convergence Divergence Indicator works by detecting trend reversals, as well as trend exhaustion. The indicator does this by using the moving average convergence divergence (MACD) via its proprietary volatility explosion relatively adjusted (VERA) theory.
Similar Predictions by Other Indicators
Apart from the GTI VERA Convergence Divergence Indicator, other market indicators have also come to the same conclusions. In late June and early July 2018, two separate indicators also pointed to a trend reversal for the top-ranked cryptocurrency based on a predicted end to the massive selloffs.
First was the Williams Percentage R (WLPR) indicator which determines whether an asset (in this case, BTC) is overbought or oversold. At the time, the WLPR revealed an immediate reversal of the BTC price downtrend. The second was the Divergence Analysis (DVAN) Buying and Selling Pressure indicator which also pointed to BTC being oversold.
July turned out to be a decent month for BTC based on price performance as the top-ranked cryptocurrency rose from below $6,000 to eclipse the $8,400 – its highest price level in two months at the time. Since then the Bitcoin price experienced decline as August began, taking its price below $6,000 once more. As at press time, Bitcoin is trading at $6,400 despite the negative news from the SEC on Wednesday, rejecting three ETF filings.
Do you think the Bitcoin selloff is over, based on the data from the GTI VERA Convergence Divergence Indicator? Keep the conversation going in the comment section below.
Image courtesy of Bloomberg and Coinmarketcap.