Emerging Market Rally To Aid Bitcoin
For some reason or another, investor sentiment has begun to turn decidedly positive in the cryptocurrency market. Tom Lee, the co-founder and head of research at Fundstrat Global Advisors, added to this influx of hopium-laced messages through a piece of analysis he pushed to his Twitter following, many of which are embroiled in all things Bitcoin.
Lee explained that from this perspective of his New York-based advisory outfit, emerging markets, whose value is captured through the MSCI Emerging Markets Index, pulled down BTC over 2018. More specifically, this specific index fell by 27% over 2018, as Bitcoin lost 70%.
While there's an argument that the seemingly related performance of the two markets is just an untimely coincidence, Fundstrat seems to be arguing that cryptocurrencies are more emerging than traditional, hence the correlation.
And with the American advisory expecting for emerging markets to outperform U.S. equities over 2019, it fully expects for Bitcoin to post a solid performance over the coming months.
In fact, Lee writes that if BTC "catches up" to macro markets, it could reach as high as $10,000 or $20,000.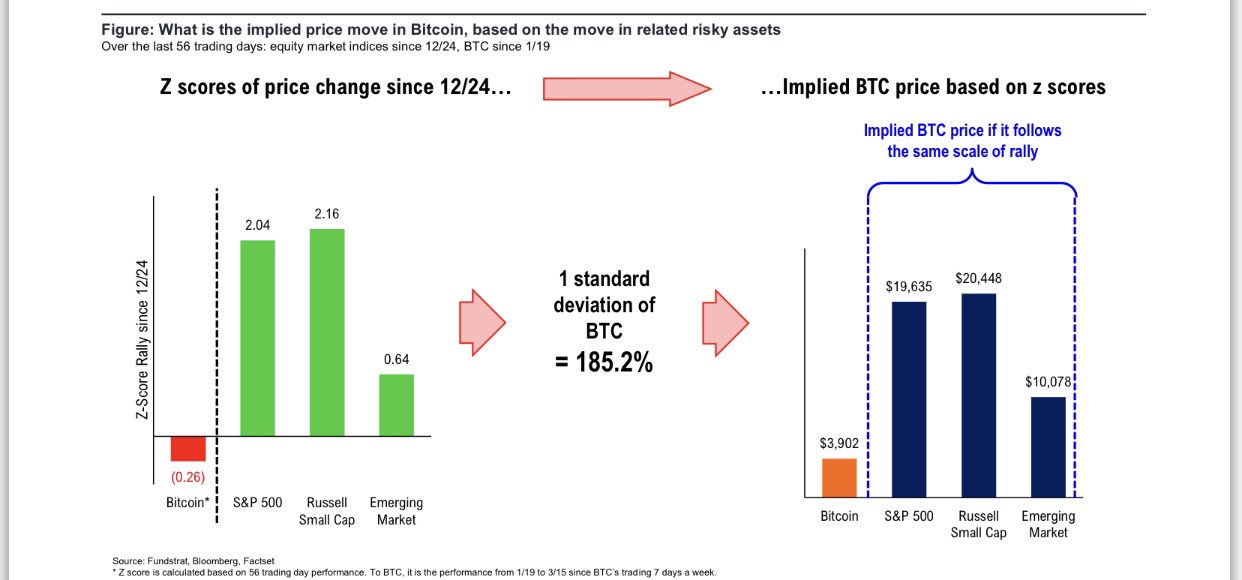 What Else Is Tom Lee Bullish About?
Although the forecasted performance of emerging markets is a catalyst that Lee is most excited about, he has also recently drawn attention to a number of trends that could set the stage for a Bitcoin rally.
Per reports from this outlet posted last week, the investor has looked to the slightly foreboding performance of the U.S. dollar as a potential tailwind for the leading cryptocurrency. In an interview with CNBC, he went on to draw attention to technicals, touching on the ever-important 200-week moving average. BTC has purportedly begun to trade right around the 200 MA, signaling a potential breakout.
Fundstrat's de-facto figurehead even touched a bit on the adoption that cryptocurrency has seen in the hyperinflation-hit Venezuela, where locals are finding a true use case for a deflationary, decentralized, and uncensorable asset in Bitcoin and altcoins.

Even if all these macro trends, technicals, and fundamentals end up not resulting in fruitful bouts of buying pressure, Lee seems to be sure that Bitcoin will survive. Some how, some way. In an interview with Fox Business, he noted that BTC has experienced 70% pullbacks previously, and survived, even thrived. To many, this cycle isn't likely going to be anything different.

Photo by André François McKenzie on Unsplash