New Survey Hints At Wide Crypto Adoption
To most, crypto asset adoption hasn't happened yet. You see, the aggregate value of all Bitcoin in circulation remains under $200 billion — making it smaller than dozens of companies in the Fortune 500. And, more interestingly, cryptocurrencies remain seemingly nothing but a fad in the eyes of mainstream media, politicians, economists, and some technologists.
But, a recent Kaspersky study has revealed that this may not be the case. Published recently, the Internet security firm revealed that per its survey, to which 13,434 in 22 countries responded to, 19% have purchased cryptocurrency. Here are some other interesting facts revealed: one-tenth of the respondents claim to understand the concept of cryptocurrency; 35% believe digital assets are a passing fad; 14% of those not involved in the industry intends to foray into cryptocurrency "in the future"; 50% claim they do not wish to ever use anything like Bitcoin in the future.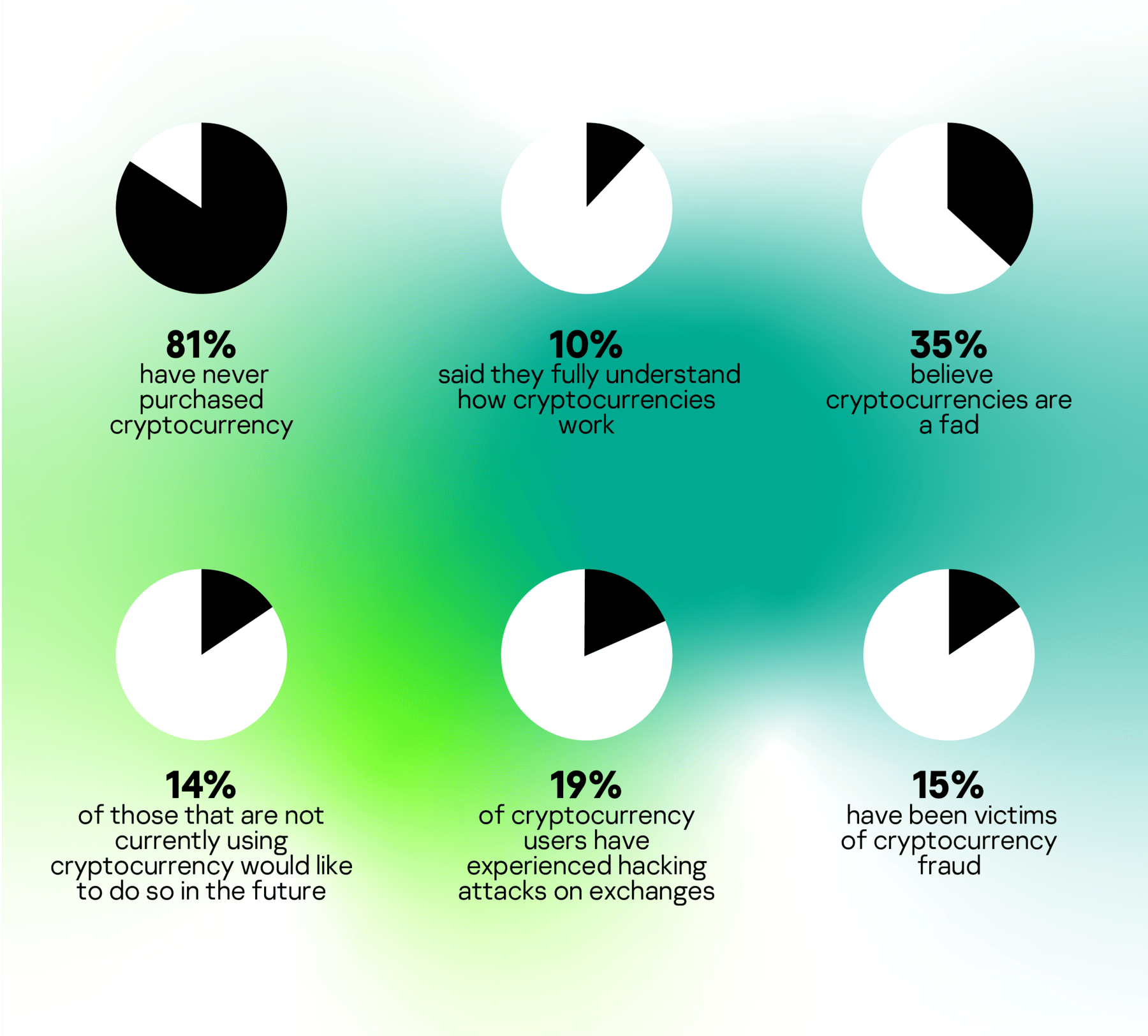 Those that have yet to siphon money into cryptocurrencies cite a number of reasons for their hesitance. These reasons include the asset class' volatility, which was made more than apparent during Friday's spike in the Bitcoin price, and the frequency of massive hacks on cryptocurrency upstarts. As Kaspersky writes:
Building consumer trust and loyalty is a challenge for any business proposition. An idea – no matter how beneficial it is – cannot flourish unless people are ready to believe in it. Establishing trust takes time and needs the product or service to work efficiently. Unfortunately for cryptocurrencies and the businesses that count on them, our study has discovered that the majority of modern consumers are still not ready to rely on them on a daily basis.
Is The Report Wrong?
While it is entirely possible that 20% own crypto assets in some way, shape, or form, other surveys suggest that such a figure seems a tad high.
For instance, a report conducted by the United Kingdom's leading financial regulatory body, the FCA, revealed that far less than 20% of its respondents were involved in the Bitcoin community. Their study, conducted in March this year, revealed that only a mere 3% of Brits own cryptocurrency. Most that have got involved in digital assets have bought Bitcoin, Ethereum, or Litecoin, with a majority purchase size of less than $250.
Other reports share similar not as optimistic results. Blockchain Capital's survey, which took place earlier this year, revealed that at most only 9% of Americans own Bitcoin — a far cry from the near-20% cited in the Kaspersky report.
Room For Growth
Regardless, there is room and potential for the growth of the crypto asset class. Case in point, Facebook, the social media giant, has recently unveiled Libra, its in-house stablecoin built in collaboration with Uber, Spotify, Visa, Coinbase, and many other large names in tech, finance, and retail. Many analysts, including prominent executives, suggest that the launch of the Silicon Valley-backed coin will result in a mass adoption of digital assets, including Bitcoin.
With Facebook hosting an active monthly user base of over two billion, Kaspersky's 20% adoption statistic may turn out to be true once Libra rolls out.
Photo by Domenico Loia on Unsplash