The Importance of Bitcoin At $10,000
Ever since Bitcoin (BTC) has entered the upper-$8,000s and low-$9,000s, analysts have been eyeing $10,000.
They see this level as a validation of Bitcoin's validity as a viable asset. As Fundstrat Global Advisors' Tom Lee put it best in a tweet, "[$10,000] will see FOMO from those who gloated about the 90% crash in BTC… and those who saw Bitcoin dead as forever." Indeed, during 2017's rally, all analysts and mainstream media alike eyed $10,000 as a level to keep an eye on. And once this price point was crossed, it was fireworks all around.
It isn't just a strong physiological and sentimental level, but a important technical level too. During 2018's downturn, $10,000 remained a key resistance and support.
What Happens When $10,000 is Breached
The importance of a five-figure Bitcoin has led many to claim that once BTC breaches $10,000, all hell may break lose. In a recent tweet, Tyler Winklevoss, the (purported) Facebook pioneer turned Gemini co-founder, claimed that once the cryptocurrency surmounts the aforementioned price point, "you can be it's going to break $15,000." What this Winklevoss twin seems to be referring to is the idea of market momentum. A move past $10,000 implies that bulls have control of the market, which should create further buying pressure.
$15,000 — over 50% higher than current levels — may just be the tip of the iceberg though. According to Lee, once Bitcoin reaches $10,000, "Level 10" FOMO will grace this market, which last occurred when BTC blipped above $4,500 in late-2017. If history is any guide, the cryptocurrency market will shoot even higher once $10,000 is breached. 
In a recent podcast with Binance's chief financial officer, Wei Zhou, Lee opined that there will be a "fast and furious" move to $20,000 following a break and close above $10,000. And from there, Bitcoin will double in the next five months, reaching $40,000 in a jaw-dropping move.
Barriers to Surmount
While everyone is keeping their eyes glued to $10,000, some believe that there will be some barriers before Bitcoin reaches that level. In fact, you've already seen these barriers come to fruition over the past couple of days, with cryptocurrencies consolidating and experiencing some short-term weakness. This, for the time being anyway, may continue.
Reported by Bloomberg on Wednesday, Bitcoin is facing down a "key technical obstacle" — this being the Relative Strength Index (RSI) reaching overbought levels. It is important to note that the last time RSI went overbought, nothing detrimental came to fruition immediately, meaning that calls for a strong retracement from here may just be an overreaction.
There are a few harrowing signs though. This chart from well-known analyst Filb Filb shows "lackluster volume" and a disappointing price structure. Filb adds that the long to short ratio on Bitfinex has begun to favor bears, implying a potential drop to lower levels soon.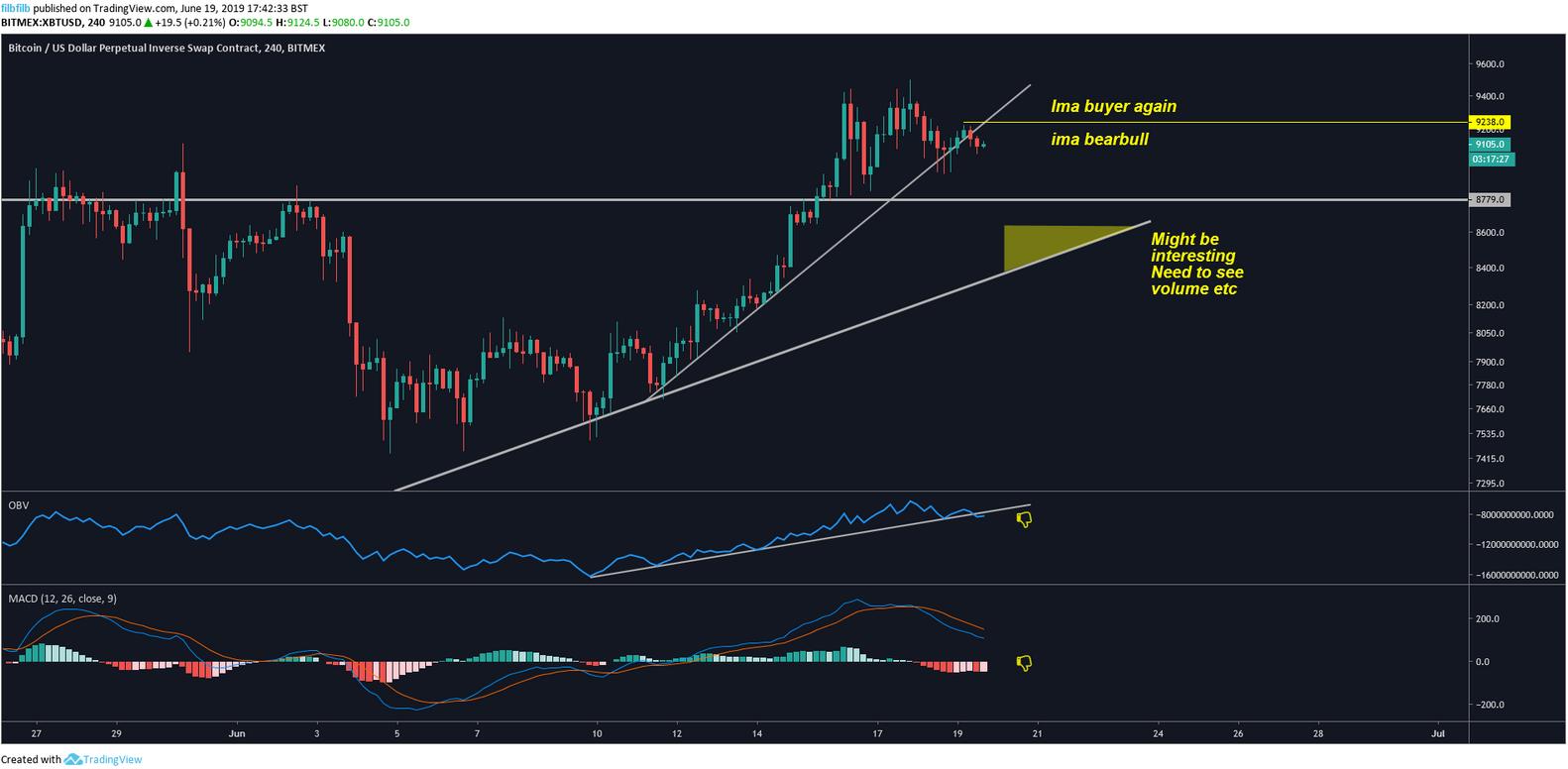 Title Images Courtesy of Icons8 Team Via Unsplash