Fundstrat Remains A Bitcoin Bull
Tom Lee is back, and as normal, he has begun to propagate the good word of Bitcoin. In a recent CNBC segment, the Fundstrat head of research and co-founder was clear that he expects for BTC to head higher, citing an array of factors to back this cheery call. In fact, he states that Bitcoin's current "fair value" could easily be in the quintuple-digit range, effectively asserting that BTC is still undervalued, even after Monday's surge and the subsequent fallout, which saw the rally perpetuate as FOMO ensued.
Lee explains that while Bitcoin has had a "rough 2018," which saw startups collapse in their entirety, the industry market capitalization lose 85% of its peak valuation, retail investors flee the space en-masse, and institutional players placing their crypto forays on the proverbial backburner, 2019 is already looking much better. In fact, prior to the recent surge past $4,200 and beyond, BTC was already up by 11% against the U.S. dollar since the start of 2018, as Digital Currency Group's Barry Silbert noted on Twitter.
And with "old whale wallets buying Bitcoin" and a "lot of positive things taking place" in the industry, the Fundstrat chief quipped that $14,000 might just be a fair valuation for Bitcoin. Here's why.
He explained that over much of the cryptocurrency's history, BTC was valued at 2.5 times its cost to mine. With Fundstrat estimating that this point sits in the $5,500 region, the $14,000 price prediction of sorts was extrapolated. This interestingly comes just weeks after Lee remarked that even $25,000 was "fair" for the crypto.
On the matter of what else will boost BTC in the coming months, the New York-based analyst looked to institutional ventures, like Fidelity's soft-launched custody solution and Bitcoin's value proposition in nations like the inflation-striken Venezuela, which should spark long-term interest and staying power.
Macroeconomy Could Boost Bitcoin
Lee's recent points come just weeks after he claimed that the state of the macroeconomy could be a boon for the Bitcoin price over 2019. Per previous articles from the outlet, the prominent commentator noted that emerging markets, whose value is captured through the MSCI Emerging Markets Index, pulled down BTC over 2018. More specifically, this specific index fell by 27% over 2018, as Bitcoin lost 70%. But with Fundstrat predicting emerging markets to outperform U.S. equities over 2019 and considering the seeming correlation, Lee wrote that if BTC "catches up" to macro markets, it could reach as high as $10,000 or $20,000.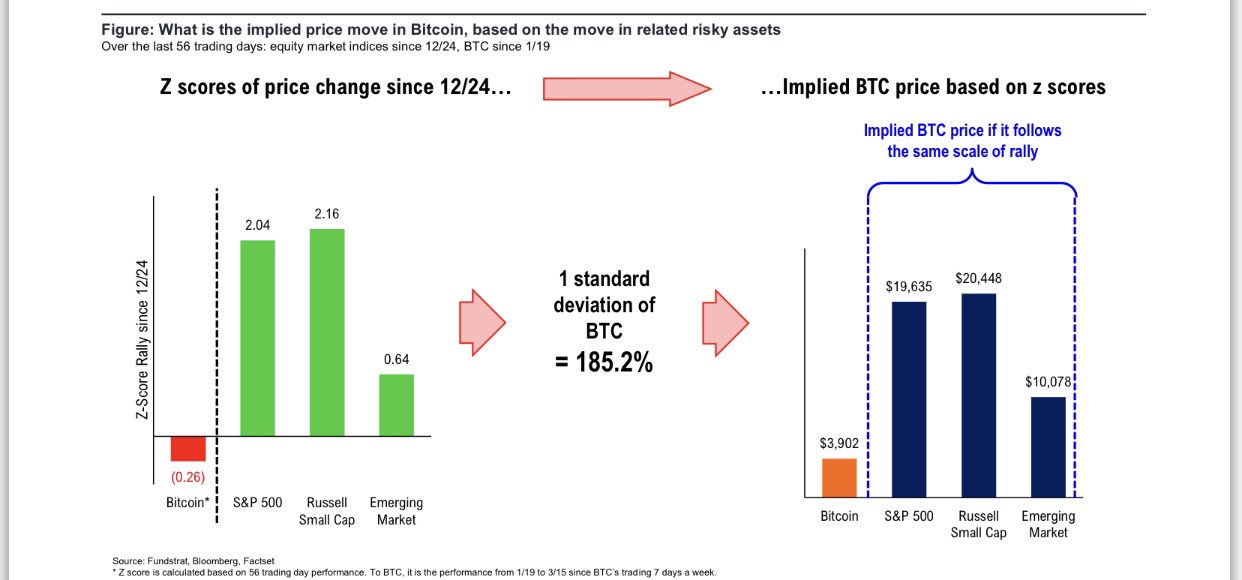 The U.S. dollar was also mentioned, in that as forex traders expect for the de-facto global reserve currency to falter over the coming year, this should be a boost of nitrous oxide for BTC.
Bulls Across The Board
Lee is far from the only industry commentator to have appeared on social media to tout overt optimism. As reported by Ethereum World News previously, BKCM CEO Brian Kelly told CNBC that "high net-worth individuals, family offices, are starting to take a serious interest" in Bitcoin, all as custody solutions have propped up, volumes have spiked, and short sellers looking to cover their rear ends — presenting a strong case for a further rally. This alone could see BTC rally to $6,000.
Photo by Allen Cai on Unsplash